Supported Huawei Models:
E155, E156, E156C, E156G, E160, E160E, E160G, E161, E166, E169,
E169G,E170, E172, E176, E180, E182E, E196, E216, E219, E226, E230, E270, E271,
E272,E510, E612, E618, E620, E630, E630+, E660, E660A, E800, E870, E880,
EG162,EG162G, EG602, EG602G
Not Supported Models:
E1552, E1553, MF600, MF180, MF100, MF627, WM66A
Steps to unlock Huawei modem:
1) Firstly to unlock your Huawei modem you need an Unlock code.
To get the unlock code free for your modem post your modem IMEI number here.

2) Download UNLOCKER.







3) After you connect your modem click 'CHECK LOCK' button to check the lock status of your modem.
Now see your modem is already unlocked or not. It will say LOCKED if your modem is locked.







4) If your modem is locked then put the unlock code in the box below the 'CHECK LOCK' button and press 'UNLOCK'.

5) Thats it. You are done. Your modem is now unlocked and can be usable with any sim card of your choice.
Do it yourself unlocking:
Universal MasterCode

As its name suggest, Universal MasterCode is capable of generating unlock codes for a wide range of device,
which of course includes most of Huawei's modem.

E156 E155, E1550 E1552, E156G E160, E160G E161 E166, E169 E169G, E170, E172,
E176 E1762 E180 E182E E196 E226 E270, E800,E870 E880 EG162 E880 EG162 EG162G
EG602 EG602G, E271, E272, E510 E612 E618 E630 ,E620 E630+ E660 E660a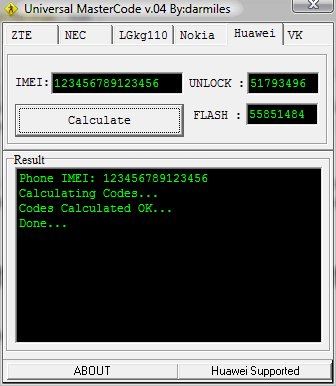 As you can see, the unlock code generated is the same as the one generated by the online unlock key generator above.
There is no limit how many unlock codes you can generate, meaning as long as you have this generator on your computer,
you can unlock as many modems as you wish.

No installation is required. Just download and start the application.

Download Universal MasterCode: MediaFire (243 KB)



Huawei Unlocker

Huawei Unlocker is another simple and straight forward free unlock code generator.
Enter your modem's IMEI, hit the "Unlock" button and consider yourself done. Again, no installation required.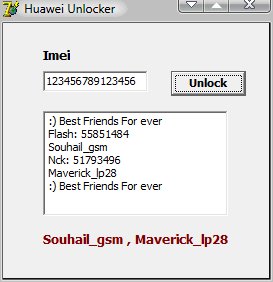 Download Huawei Unlocker: MediaFire (196 KB)


Huawei Modem Code Writer Tool
If your modem doesn't prompt for the unlock code even after you have inserted an unauthorized sim,
you can use any of these two code writer tools:

Download Huawei Modem Code Writer: MediaFire

OR

Download Huawei Code Tool: MediaFire
Thanks to mryoso31
of Symbianize